Are you looking to explore computing with Raspberry Pi, or want to start your career as a programmer to learn languages? Do you want the best keyboard for Raspberry Pi to take your learning to the next level? If so, this article is for you, and keep reading till the end.
For computer learners and programmers, Raspberry Pi is one of the must-have products. And yes, everyone can afford it thanks to its accessible price range. But you cannot operate Pi without a computer monitor, a mouse, and a keyboard.
So, you might have the monitor and mouse at home and just lack the keyboard, right? No worries, we have done extensive research and found the best keyboards. You don't have to go through hundreds of brands and products; we have your back covered.
Our keyboard experts tested a variety of keyboard at all prices from $30 to $200.00 in the market. One of our favorite is Vilros 2.4 GHz keyboard for raspberry Pi. Read on for a list of our top picks, as well as a buying guide on how to select.
Top 7 Best Keyboards For Raspberry Pi
As the market is full of keyboards with several features designed for different products, it's hard to pick the right one. A less tech-savvy person like you can't figure out which keyboard can help to the fullest. So, here are our reviews of the 7 best keyboards for Raspberry Pi to choose from.
1. Logitech MK345 – Best Wireless Keyboard
Logitech MK345 is an entry-level wireless keyboard with a right-handed Logitech M275 mouse. This could be the best option for Raspberry Pi if you don't have a mouse. You'll get a full-sized keyboard at an affordable price with many competitive features.
Best Features
First of all, we love its design having a palm rest to give you a comfortable typing experience. It has a solid build quality, making the keyboard drop resistant, and is pretty quiet while typing. It's spill-resistant, and you don't have to worry if liquid spills over it accidentally.
Logitech MK345 comes with 2.4 GHz wireless USB connectivity and reliable speed. Its working distance is up to 33 feet (10 meters), which is quite long. If you sit close to your device, you can't imagine both the keyboard and mouse's speed and response rate.
Doggo is super happy that I have packed TVS Gold Pro keyboard for returning, moved back to Logitech MK345 and now it feels super mushy.

— Grace Jacob (@iGrace) September 23, 2020
2. Logitech K120 – Best Wired Keyboard
Logitech K120 is our second pick from Logitech for its reliability and our trust. This is the best option for you if you want a play-and-plug device. Like the Logitech MK345, this is full-sized and is the best keyboard for Raspberry Pi 4.
Best Features
The classic black color of the Logitech K120 wired keyboard makes it look sober and simple. Its price range is not very high even though the size and build quality are perfect. One thing we miss here is the palm rest and backlit, which most users want.
You get a lot of keys to use and control multiple functions through them. This keyboard is just designed for monitors and is not usable with tablets or other display devices. For connecting, it does not need any additional drivers; just plug in, and it's ready to go.
I love Logitech's K120 keyboards for years. I've bought 4 of them over the last decade and they all still work.

I've tried a few of their low end headsets and they're utter garbage too. Guess they're just good at keyboards? I don't count the Herman Miller colab

— Taylor | delbertina (@DeliSpaceRanger) July 29, 2022
3. Arteck HW086 – Best Rechargeable Keyboard
Our next option for anyone who wants a premium keyboard on a budget is the Arteck HW086. This is a wireless laptop with a built-in rechargeable battery you can expect only from top-tier keyboards. With it, you can do anything you want with your Raspberry Pi.
Best Features
Arteck HW086 has an ultra-slim design without side number keys and could be the best mini keyboard for Raspberry Pi. Though it's made from stainless steel, it's super lightweight. Its build quality makes it heavy-duty and offers a silent and comfortable typing experience.
This wireless keyboard has a 2.4 GHz frequency and never loses signals from your device. So, you would never get an input delay, and you can type up things really fast. Once you connect it to your Raspberry Pi, it won't get into sleep until you turn it off.
keyboard has an excellent
rechargeable lithium battery with high capacity. You can expect 6 months of battery life on a single charge. So, it'll last for years with no effect on its efficiency. You won't need to change it unless you feel a decrease in its performance.
4. iClever BK10 – Best Bluetooth Keyboard
Another best keyboard option for you is the iClever BK10 by iClever. It's a wireless (Bluetooth) keyboard that you can connect to multiple devices and easily switch between them. Having all the essential features of an excellent quality keyboard, it's a good keyboard for Raspberry Pi 3.
Best Features
This keyboard is made of high-quality stainless steel, which adds to its durability. It comes equipped with feet holding it at an ideal slope, preventing wrist discomfort while typing for long periods. It has anti-spill protection, helping to save the keyboard from accidental liquid spills.
iClever BK10 has wireless technology that uses Bluetooth to link your Raspberry Pi. You can connect it with up to 3 devices, but we would not recommend it. Besides its excellent performance, its silver color enhances its aesthetics and overall look.
It is the iClever BK10. I have found it really good.

— Lucinda Doyle (@lucindaedoyle) May 24, 2022
5. iClever DK03 – Best Dual-Mode Keyboard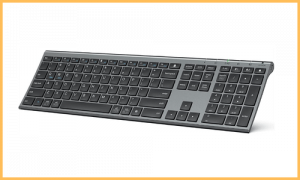 Another excellent pick for you from the iclever keyboards is iClever DK03. It has a mouse, a USB receiver, and dual-mode technology, making it ideal for Raspberry Pi. Its fast typing speed, gaming capabilities, and other excellent features make it worth your money.
Best Features
iClever DK03 is lightweight and ultra-thin, so you can conveniently carry it without worry. You won't hear any noise while typing on this elegant, quiet keyboard. It's well suited for heavy use thanks to its full-size keyboard with an additional number area.
As mentioned, iClever DK03 has a wireless keyboard, mouse, and a USB receiver; it's a great value for money. The high-quality rechargeable batteries make this keyboard long-lasting and durable. It can work seamlessly for hours without any hurdle or worry of replacing batteries.
6. Vilros 2.4 GHz – Best Wireless + HDMI Keyboard
Our next keyboard is the Vilros wireless and HDMI or wired keyboard designed mainly for Raspberry Pi. It's the most robust keyboard with a touchpad on its side to replace your mouse needs. So, Vilros 2.4 GHz keyboard can be a good investment for your Pi projects.
Best Features
Starting with the size, Vilros 2.4 GHz is a 15 inches sleek keyboard, a little bulky, and has a solid build. We have not seen any complaints about its build quality from any user. But this makes the keyboard less portable, and you can't move with it all around.
As for the Raspberry Pi board, you get support here, and the keyboard can hold it within the case. You'll have to purchase the board, and the keyboard has a built-in fan to connect with Pi. So, this keyboard is an all-in-one solution for anyone who wants a convenient Pi setup.
7. Arteck HB098 – Best Budget Keyboard
Lastly, we have another best virtual keyboard for Raspberry Pi by Arteck. This model is quite affordable and gives almost the same looks as Arteck HW086. It could be your go-to choice if you want a versatile keyboard. Don't confuse yourself with its price; look at its features.
Best Features
Arteck HB098 has an ultra-slim and ultra-light design to place securely on your work table. Its buttons are really smooth, giving a feel of using the iMac keyboard or even more comfortable keys. All its keys work perfectly, and they'll never get stuck while typing.
The connection setup is pretty easy and connects reliably and quickly. You won't find any issues with its connectivity, and you don't have to pair it each time. If you want a Bluetooth keyboard, don't hesitate to buy this one. It's a perfect option for people who travel frequently.
Frequently Asked Questions
What is the best keyboard for a Raspberry Pi?
The best keyboard for Raspberry Pi is Logitech MK345. This is a mid-range keyboard for those who want quality for paying less. It's a keyboard and mouse combo, using a single 2.4 GHz wireless USB dongle. With 3 years of battery life, you'll enjoy a wireless keyboard for years.
What keyboard can I use with Raspberry Pi?
You can use all USB wired or wireless keyboards with your Raspberry Pi. For us, the best brands with no records of issues with Pi are Logitech, Arteck, and iClever. These are the most reliable and reputable options. However, you can search for other brands in the market out there.
Do all keyboards work with Raspberry Pi 4?
No, not all keyboards are compatible with Raspberry Pi, especially the old models with old cables. You'll need a wireless keyboard with Bluetooth connectivity to use with Pi. You can also use wired keyboards having advanced cables to connect with your monitor.
Conclusion
Well! That's all about the best keyboard for Raspberry Pi so far. If you are a student, employee, or business owner using Pi, it might be your best partner, right? Of course, yes. You should invest in the best keyboard to enhance your computing with Raspberry Pi.
So, we have reviewed the 7 best keyboards to help you decide. We recommend a wireless keyboard with good battery life and portability. However, you can look at your needs, budget, and other preferences. Go through the features of each product before buying one.
Source:
1. From Wikipedia, Raspberry Pi , 19 June 2013
2. From Patrick Fromaget, Wireless Keyboard and Mouse on Raspberry Pi , 02 July 2018