Although the keyboards with different sizes and layouts are available, still a lot of people seem more captivated by TKL vs 75% Keyboard layout. The popularity of form factor keyboards has been drastically improved over the years and what's more surprising is that prebuilt and custom mechanical keyboards have been somewhat left behind.
I took a step to serve those who are eager to know that out of 75% and TKL Keyboard layout which keyboard is the best form factor.
I have tested these (TKL & 75% keyboard) small form factor keyboards and found they have many similarities. Although the total number of keys in both boards is almost the same the TKL layout to be different and has a larger footprint in comparison to the overall footprint of 75% of boards.
In context to their interesting design, they both offer a lot more exciting features which I find extremely effective for example volume knobs and screens.
I would rather say 75% keyboard is a compact version of TKL keyboards that comes with close navigation of keys and pretty much similar functionalities. Still, I am unable to declare any of them the best keyboard as it largely depends on the aesthetic inclination of the consumer anyway.
TKL vs 75% Keyboard Layout Comparison
I present to you this comparison article and will talk through all the differences between TKL and 75% keyboard layout. Basically, we would be discussing the strong and weak factors of these compact keyboards so the readers will have a clear idea of which is the form factor serves you best as per preferences.
What is the Appeal of Compact Keyboards?
The compact keyboard has a special place due to convenience, comfort, and saves a lot of space left on the desk. Also, with the smaller keyboard on your desk, you can easily reach for a mouse without moving a bit, it can make research, typing, and gaming much easier and efficient. That is why compact keyboards dominant the whole market where you must have seen most custom and prebuilt keyboards are smaller keyboards, for good reasons.
The idea & invention of smaller keyboards is, however, very much related to affordable alternatives to full-sized keyboards and the concept has shaped down as TKL keyboards. Further, the great success of the TKL keyboard encouraged companies to produce farther smaller keyboards which include 75%, 65%, and 60%.
These small form factor boards outclass full-sized keyboards on the basis of performance, efficiency, functionality, comfort, and portability.
Obviously, compact keyboards offer ergonomic form factor and smaller footprint similarly with extra room on the table makes mouse movement easy which is most needed in FPS gaming like the league of legends Keyboards. Definitely, small form factor keyboards are the best when you need enough space on your table to be used for other devices.
Users like gamers, typists, researchers, or writers find compact keyboards more advantageous than full-sized boards. Typists and gamers prefer smaller keyboards to be quick, spontaneous, and flawless.
Although the only drawback of a compact keyboard is that some important keys are sacrificed to be fixed in the smaller design of the keyboard. In reality, not all smaller keyboards have the same case of giving up on functionalities. The case is different with TKL and 75% keyboards without sacrificing functionality they both include all vital elements like F-keys, home row cluster, and arrow keys.
Even though 75% of keyboards hold a smaller footprint but have all the keys filled in the small layout. The small form factor features more or less every essential key which I find on Tenkeyless keyboards.
Tenkeyless Keyboards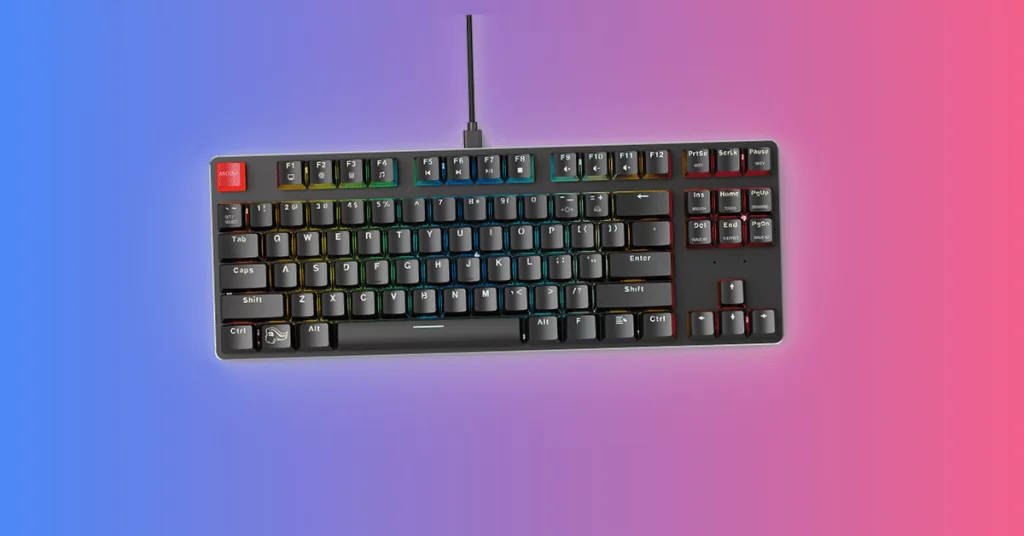 TKL keyboards or also recognized as 80% layout, is known as 'Tenkeyless' because of the lacking Numpad from the board although it's another debate that there are 17 or more keyless. The keyboard layout is quite similar to a bulky full-sized keyboard, having 87 keys on board.  However, an uncommon TKL keyboard variant is also available with around 92 keys.
Since the late 80s Tenkeyless keyboards have been in the market served to be as a competent ergonomic variant of 100% keyboards. Also, there are both variants of 80% keyboards available which are preconfigured and custom keyboards to cater to users of all types. Nowadays, almost all the companies of prebuilt keyboards prefer producing TKL versions of keyboards.
TKL keyboards' popularity has grown over the years due to the perfect size as newer compact form factor keyboards that makes a transition from the full-size keyboard much convenient and comfortable. Besides, the size of the smaller form factor serves great in terms of functionality, efficiency, and form. Since the TKL keyboard's layout is almost the same as a full-size keyboard's layout thus it does not bother new users to adjust to this layout.
Apart from this, I am very impressed to know that this form factor comes in a wide range of variety both for entry enthusiasts and those from the conventional sector.  Likewise, the TKL board is not just excellent for narrow-spaced setups, the ergonomic factor for typing on alphabetic-centered boards is far more overwhelming.
Even though the TKL form factor has all amazing aspects but surely they do have some issues, which is why further smaller keyboards were made afterward. In comparison, 80% of keyboards still seem quite bulky and dull than other smaller form factor keyboards. But keeping all these small factors aside, TKL keyboards hold a safe and balanced size that is suitable for almost all types of users.
75% Keyboards
After 80% or TKL form factor, 75% keyboard is the farther smaller form factor designed to be more compact board, have gained recognition over the years. This smaller keyboard includes more or less the same keys as the TKL keyboard.
In reality, 75% form factor has almost TKL build with all the keys packed closer to provide a smaller build along with less traveling time while typing. It is intended to put forward a high level of functionality like the TKL form factor does, with a more compact size. There is no chance that you may find any difference between 75% and TKL form factor in context to useability.
This compact version of TKL holds less space between the F row keys and arrow key cluster while on the right side the bottom row with spacebar shortens in size as well as the shift key is narrowed down further to place the Up key. The 75% compact form factor hold navigation keys closer and vertically accommodate keys such as Home, Pg Up, Pg Down, and End to save the width.
In so many aspects 75% compact keyboard is identical to 65% keyboard with the only difference of F keys that are not included in 65% smaller form factor.
However, the issue with 75% compact keyboard layout is that user switching from TKL or full-sized keyboard to 75% compact form factor needs to readapt or change their typing style. It is the smaller form factor having all keys close to each other which is not the case with TKL. Also, the keyboard's right side is designed entirely differently to make the form factor smaller.
75% keyboard has not any standard design, therefore keyboards with a totally different look or layout are somewhat exciting and interesting for some people but somehow it can be an issue of concern for some. The current popular version of 75% keyboard layout is, although, exploded 75% layout but it can be changed once another layout gets in trend.
TKL and 75% Keycap Compatibility
In terms of keycap compatibility, I would rate tenkeyless boards a good 9 out of 10 while the 75% keyboards cast down at the rating of 2, allow me to explain.
I found TKL keyboards are good to go with almost all key sets available even this great form factor is made compatible with any 104 keysets used for full-sized boards, although, you will need some effort and changes.
Whereas the case is different with 75% boards as I found it tough to get compatible keycaps for 75 keyboard layouts. Indeed, most profiles do not find 75% layout supportive but some particular keycaps set are compatible and definitely, they get pricier.
Some base keycap sets like 1U modifiers, 1.75U right shift, Glorious, etc. are compatible with the standard 75% keyboards layout. Also, some high-end sets like GMK and more work great with 75% boards.
You should keep in mind that keycap sizes and keyboard plates differ from one kit to another. There are some smaller keycaps made to fix with keys like arrow keys and others on the keyboard.
75% Keyboard vs. TKL Keyboard – Better Keyboard Form Factor
If you are done with full-sized keyboards and want to try smaller ones then Tenkeyless and 75% keyboards are certainly the best options to consider. Forthwith, when TKL boards have earned a great reputation 75% of keyboards hit the market as the most popular compact keyboards.  Also, adjusting is much easier when you switch from a full-sized keyboard to any of them as compared to 60% or other smaller alternatives.
Both 75% and Tenkeyless keyboards include all essential keys thus these are perfect to be used for gaming, writing, typing and so much more. That is to say, which keyboard has a better layout is primarily based on the reason for buying a mechanical keyboard.
In case you are after a traditional mechanical keyboard so TKL boards are excellent to serve as they are recognized compact form factors that have already proven reliability in many situations.
On the other hand, if you like to get a unique design keyboard that features a wide range of additional features like screens, knobs and badges so give 75% keyboard a try. Although it took me a while to get used to working on it while hunting down compatible keycap sets was the hardest part.
Frequently Asked Questions
How many keys does a TKL keyboard have?
TKL keyboards are also known as 80% or 87%, with around 87 keys on board.
What is a 75% keyboard?
It is the keyboard with a compact layout and commonly known as 75%, this is the keyboard 75% of the full-sized ones maintaining the row of function keys at the crest. It has just a series of keys near to enter and backspace. The design is although based on narrow space very much similar to 60% keyboard but includes almost all-important keys like TKL.
How big is a TKL?
TKL comes with varied sizes though but the standard is about 14 inches or 35.56 cm while the full-size measures in 17.4 inches, 96 / TK is around 15 inches.
Is the TKL keyboard better for gaming?
Tenkeyless design is specially designed to offer efficiency, speed, comfort, and ease for both gaming and working both. The small size of the keyboard although does not include Numpad but it offers you enough space for wider mouse movement that is most required for pleasant gaming sessions.
This is why TKL keyboards are the best boards for multiple uses as many top professional gamers love TKL boards for their professional gaming.
Are 75% Keyboards Good?
This compact form factor keyboard brings forth a perfect balance that lies somewhere between full-size keyboard and 60% keyboard and surprisingly became the first priority of enthusiasts and pro players of FPS games.
Top recommendations for the best 75% Keyboard are Drevo Excalibur, Epomaker NIZ Plum, and Keychron K2.
Conclusion
Above all, Tenkeyless keyboards are best to use for multiple situations, however, 75% of keyboards are mostly preferred by pro gamers and typists. Both the keyboard sizes are perfect to use for working or gaming with almost all the needed keys and functionalities.
To be honest, 75% of keyboards are hot in town than TKL keyboards but still, the final choice should be based on your aesthetic and personal preferences.