There are many people facing trouble finding the best keyboard for Nvidia Shield & Nvidia Shield tv pro, therefore we searched for the most suitable keyboards you can buy for Nvidia Shield.
Nvidia Shield is the popular digital android TV-based media player that is used for streaming all kinds of TV shows and movies from favorite channels. It is a type of set-top box that is compatible with HDR and 4K videos. At the same time, it as well enables consumers to use different entertainment apps and play numerous games.
With that said, the included gaming controllers and remotes do not perform efficiently to input commands, operations, and search for content. Luckily, the compatibility of Bluetooth and wireless keyboard provide a big relief and comfort in this regard, you can find various Bluetooth keyboards and mice for Nvidia shield out there.
In general, people prefer using wireless & Bluetooth keyboards for the Nvidia shield which makes gaming and operating shield pretty easier. Although Nvidia Shield supports wired keyboards experts recommend using a wireless keyboard with NVIDIA Shield as it offers ease of use as well as its USB ports can be used for other devices.
Nowadays, the young generation like to use wireless devices because they offer the advantage of the limited mess of cables or wires. So, taking the convenience into account all keyboards presented in the list is compact in size, wireless, have an ergonomic design, and provide various functions/features. These can be used for playing games, watching TV shows/movies, etc.
Here in this post, we have reviewed the top 5 keyboards you can use with Nvidia Shield, so let's get into details quickly:
5 Best Keyboards for Nvidia Shield TV
 1. Logitech K400 Plus Wireless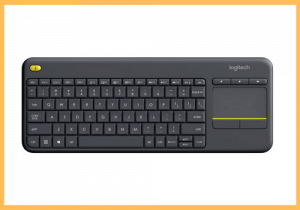 The Logitech K400 Plus is a comfortable, compact, and media-friendly keyboard with a USB wireless connection with a frequency range of 10 meters. This simplest keyboard comes without fancy setups but the functions and amazing wireless connectivity make it a popular choice for Nvidia Shield.
Features
Slim & Compact Design: The minimalist and slim design of the K400 Plus keyboard makes it portable enough to carry for gaming or operating streaming device, it provides you comfortable control of PC or digital TV devices.
Integrated Touchpad: Even though the build-in trackpad is small it is designed to make the keyboard a hassle-free multi-functional device that truly serves the purpose pretty well. The touchpad feels quite helpful to use with HTPC or TV.
Chicklet Keys: The Logi K400 Plus is crafted with a low profile design while chiclet quiet keys have shorter pre-travel distance and are easy to actuate. The ABS keycaps however feel slippery and less spacing between key switches might cause typos.
Ease of Use: It offers simple plug & plays functions, an on/off button, volume control, hotkey as media control, and customization with Logitech software.
Buy Logitech K400 Plus Wireless Touch Keyboard in Nairobi Kenya. Buy a simplified yet powerful keyboard from Logitech in Nairobi Kenya at Devices pic.twitter.com/IcWEooaB18

— Devices Technology Store (@devices_tech) September 28, 2021
2. Logitech K480 Wireless Multi-Device Keyboard
Logitech K480 is supposed to be the ideal keyboard for the Nvidia Shield, the unique wireless keyboard allows you to work on any device e.g., smartphone, tablet, TV streaming console, etc. This Bluetooth device incorporated a space-saving compact design & familiar layout with the most used shortcut keys to make functioning and performance much better.
Features
Build Quality: The device is overall decently made; the plastic frame of the keyboard seems fine however the feet feel a bit rattled. As well the keyboard comes with a water-resistant design that can survive any small spilling accident.
Shortcut keys: Along with the familiar layout company added enough shortcut keys like search key, home for multitasking menu, volume & media controls.
Easy to Swap: the board features an ultra-smart function of a switch dial in which a simple dial with marks of 1,2 & 3 enables users to swap between 3 Bluetooth-connected devices.
Cradle Included: the keyboard features a groove within the device that provides support to all devices (smartphones & tablets) at the proper angle so that you are facing the device while working/typing.
Battery Powered: this Bluetooth keyboard has used two built-in AAA batteries that are claimed to last for 24 months, if it's for real, it's certainly long battery life.
Typing is an important integrated skill for Ss to strengthen. Our G5 Ss now have 1-to-1 @Logitech K480 ⌨️ to support their learning alongside their set of #LogitechCrayons

👀 Ss using these interchangeably depending on their individual #edtech needs

📽️⬇️#edtech @AppleEDU pic.twitter.com/Qnb7HwCGbx

— Ryan Krakofsky (@mrkpyp) November 15, 2021
3. Logitech K600 TV Keyboard
Logitech K600 deserves to be called a user-friendly keyboard for Nvidia shield as it is deliberately designed to offer the smartest way to control digital smart TV, the dimension-pad enables you to navigate network layouts while the precision trackpad allows you to control functions on the media player.
Features
Wireless Connections: the Logitech K600 brings forth a wireless USB receiver and can also be connected via Bluetooth to 3 devices instantaneously, for the process of pair-up you simply need to hold the button till the light start to blink. It provides great sync with your go-to devices of yours.
D-pad Navigator: The wireless keyboard has introduced an efficient d-pad function for navigating app interfaces, grid layouts, and on-screen options with extreme ease.
Smart Touchpad: the laptop-like trackpad used in the keyboard for uninterrupted cursor control to optimize use with smart TV or PC
Shortcut keys for TV: As well as the keyboard offer multi-device connectivity whereas the smart TV shortcuts (search, switch apps, launch & go home or back) make it a premium choice to use with a various streaming device.
Single-click switch: this top-engineered device features multi-device connectivity (PC, TV & mobile devices) and offers a single-touch button to swap between devices 1, 2 & 3.
Logitech's K600 TV Keyboard is perfect for controller smart TVs with a built-in trackpad at $55 (Save 20%) pic.twitter.com/8D3xjUrHsk

— 9to5Toys (@9to5toys) August 14, 2020
Also Read: Best Keyboard for Oculus Quest
4. Corsair K83 Wireless Keyboard
If you wondering about the best gaming keyboard for the Nvidia shield, here comes the refine styled Corsair K83 Wireless keyboard. It is not just an exception due to its sleek design & durability but its backlighting, customization, strong wireless encryption, and innovative joystick control make it more than just a keyboard work well with smart TV, PC & streaming box. It can be anything from gaming gear to the remote control.
Features
Heavy-Duty Build: its great build quality makes it durable, reliable, and stable, brushed metal with little dense plastic material is used in the keyboard. The TKL size board feels sturdy while all the mechanisms work pretty well.
Keys Performance & Functioning: K83 wireless has used tactile scissor switches that require lighter actuation force, which makes the keyboard's typing quality very good. Also, the contoured keycaps ensure comfort while 20-Key rollover is a worth-praising function.
Keys Illumination: the addition of adjustable LED backlighting (white) is pretty impressive that lightens not just every key but the touchpad as well.
Built-in Touchpad & Joystick: Since the Corsair K83 is designed to use with smart TV, PCs, and various devices so it must have ultra-modern controls like a joystick and touchpad to stand out.
Corsair K83 Wireless Keyboard: Designed specifically for home entertainment https://t.co/jSmTyUAxCt pic.twitter.com/dA65QhtZxj

— Patrick (@iknowtips) March 28, 2019
5. Rii 2.4GHz Mini Wireless Keyboard for Nvidia Shield
Rii i8+ is undoubtedly the best mini keyboard for the Nvidia shield we have on this list, is specifically designed to control smart TV, XBOX, Raspberry Pi, PS3, laptops, PC, tablets, and more. Unlike other keyboards it operates without drivers, Rii i8+ is light in weight, minimal in size, and comes at a very affordable price.
Features
Gaming Control Design: the wireless mini keyboard is engineered with a perfect balance of compactness and functionality, the design sports two round segments for joystick functioning, 92 keys in total provide easy access to function keys, characters, multimedia keys, and much more.
Sensitive Touchpad: The integrated trackpad is used for better gesture control that supports multi-finger functions. The best hand-carrying design is good for multimedia as it works great with any device compatible with a USB connection.
LED Illumination: this multifunctional wireless keyboard features LED key backlighting so it can be easily used in a dark place or room, making it ideal for theater TV.
Mini Keyboard,Rii X8 Portable 2.4GHz Mini Wireless Keyboard Controller with Touchpad Mouse Combo,8 Colors RGB Backlit,Rechargeable Li-ion Battery for Google Android TV Box, PS3, PC, Pad,Nvidia Shield https://t.co/RygoZSpUYN pic.twitter.com/nDuqxgR2x9

— Her Sabah İşe Giden Adam 🇹🇷 (@isegidenadam) April 26, 2020
Final Words
We have drawn the list of some best performing keyboards for Nvidia Shield tv and hopefully, there will be one suits your requirements.
If you consider investing in the keyboard to use for Nvidia Shield, multifunctional features, build quality, battery life & good price are some of the aspects you should pay attention to.
In the end, whichever you pick is a matter of individual requirements and personal preference.  However, you can get a variety of other options in the market but we highlighted the keyboards that are stylish, functional, and compact – which you can use from other parts of the house & you will never mind its presence in your living room.
Editor's Notes:
Doing our keyboard research for the Nvidia Shield, We have seen 368 keyboards in details and shortlisted the 5 keyboards based on the 3500 customer reviews on the twitter, Reddit and the other online community. We also researched about the brands and tested their products and listed the most trusted ones which are available for the purchase with the different buying option like Amazon and Walmart.
Source:
1. BY Nvidia, SHIELD TV FAQ, June 2, 2022
2. BY MR4K UPSCALER, Nvidia Shield Pro Mouse & Keyboard works perfectly, Dec 17, 2020