You can enjoy the best gaming session and amazing typing skills and frequency when you get a good-quality keyboard but what if you end up with the worst keyboard? Instead of increasing typing skills the worst mechanical keyboard ruins it badly and affects your performance while gaming.
The market is over-flooded with different sizes and types of gaming keyboards that to cater the demand and interest of potential customers but not all are the best. Some bad mechanical keyboards turned out to be a failure due to poor design, and ergonomics. Some of them are the worst-made keyboards failed to offer the ease and comfort to a gaming keyboard is known for. The poor performance and functionality of such gaming keyboards became a nightmare for players/gamers.
Pro players however have enough knowledge or insight about gaming keyboards but the actual problem occurs with casual or new gamers as they know nothing about good & bad gaming keyboards. So, they have to get whatever the vendor or salesperson suggests.
With hundreds of keyboard varieties and various options of key switches, confusion is normal for an average person when buying the finest gaming keyboard.
You must know about the terrible factors of the crappy keyboard that makes it the worst choice for gaming or working. Here in this content, we tried to bring every possible detail about bad gaming keyboards simultaneously we are going to point out some worst keyboards in the world so that you will not be misled by sellers anymore.
What makes the Worst gaming keyboards?
Any keyboard that does not function well is bad. Poor build quality is another definition of the worst keyboard in the world in which poor-quality material/components are used to offer low value for money. There is a series of rotten keyboards have been introduced to the market over the last few decades but hundreds of good quality keyboards affect the presence of bad keyboards through the good value of money, prime functionality, modern-day features, and more.
These days the race of producing par or even better keyboards to be in neck-to-neck competition with the most reputed brands is on a spike. But some brands are producing non-professional, substandard gaming keyboards.
We will certainly take a look at those keyboards in a while to check why you should ignore them.
Key Factors of the W

orst Mechanical Keyboards
Bad-quality keyboards can not only be identified from looks and apparent features, it's more about performing badly when you are using them.  Since we all do not want to experience this so it's better to take a look at all the possible factors and features that potentially can make or break the device's functionality.
Build Quality
It is the most crucial factor for the quality and long life of the keyboard. Some manufacturers use cheap quality plastic material to build the frame of the keyboard, making it less durable and unstable. As well the bad quality material does not offer good protection against spill or liquid & requires high maintenance.
Low-quality materials used in the keyboard mean poor build quality that not only affects durability but cannot stand with heavy usage. A keyboard is not something you buy frequently so it has to be of great build quality so that it last longer, is spill-resistant, and is easy to maintain.
Price Value
The worst keyboard offers a bad value for money that counts poor keyboard's value and general cost to feature percentage included in it. A keyboard is expected to be good in these aspects, in another case, it will be a failed investing in a keyboard. Such keyboards do not offer what you expected and wish for.
Weird Design
PC peripherals are one of the industries that welcome high-tech innovations, modern mechanisms, and experiments, that's how few brands went divergent and tried to be creative with keyboard design, which could be unique and more functional.
The experiment went wrong and new design ideas end up being the prominent drawback of the keyboards. Such new designs are not comfortable as well as tough for a new person to get used to of it.
Bad Switch Choice & Keycaps
Key switches are like soul to keyboard, bad keyboards usually do not have mechanical switches while some others have bad quality switches that require immense actuation force, making typing hell-hard for the users.
Unlike good quality keyboards, the awful gaming keyboards have the worst quality keycaps that feel loose, sensitive, and cheap to the extent that they cause accidental keypresses while gaming or working.
Inappropriate Ergonomics
Perfect ergonomics ensure comfort for users while using the keyboard and make the keyboard successful. Bad keyboards are made ergonomically wrong and can cause pain in the wrist or hand upon usage. It is the comfort that makes a keyboard successful, without proper ergonomics keyboards end up being hurting tools.
The Worst Gaming Keyboards Made
1. Razer Deathstalker Gaming Keyboard
This mechanical gaming keyboard, however, poses multi-features but due to various other reasons, it has become an unsuccessful keyboard in the market.
The build quality of the keyboard is the biggest failure, the frame of the keyboard is made out of low-quality plastic material, and with such a big design the keyboard is not at all handy and sturdy. Despite lower scale build quality, the price of the keyboard is not a real act of cheating.
Although it has chiclet-style keys they are extremely flat and its lack of grip makes it the worst keyboard for gaming, it flexes upon pressing from the center. The same goes with the wrist pad, extremely low-quality rest makes the user uncomfortable.
2. Anne Pro 2 Keyboard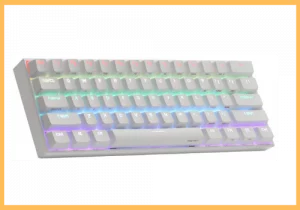 Even though the keyboard has all the impressive and attractive aesthetics but what you can do with a featured-rich keyboard when its Bluetooth connectivity is a big headache?
This compact gaming keyboard offers the slowest Bluetooth connection with extremely low latency and lagging while using. The feature of programming all keys sounds very inspiring but the actual process of customization is hell lengthy and tiring. With such an expensive cost customers expect it to offer Cherry MX switches, which is not the case with Anne Pro 2.
Smarty keyboard comes with RGB backlighting but inconsistent and hazy lighting is its major drawback. Also, you need to pay a hefty amount to get the kind of keyboard offering unreliable wireless connectivity whereas you can get better with a similar price range.
3. Logitech G513 Carbon Keyboard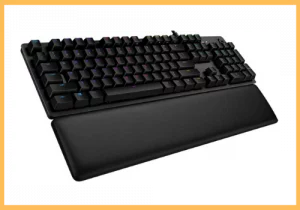 It is the keyboard with almost every aesthetic including smart features, design, and durability.
As far as the performance is concerned the keyboard has quite sensitive keys that usually caused unintended clicks while working or gaming, making it a troublemaker. Likewise, the keyboard does not offer media keys or dedicated macros. The keyboard keys require high maintenance as they are stained or have fingerprints on them easily that require regular cleaning.
The keyboard is unnecessarily expensive, which does not make sense, the included software is such a headache to use for customization.
4. Reccarzr Keyboard
This newly launched keyboard has all the features that gamers love to have in their keyboards while the affordable price makes it a fair option to buy.
But its impressive aesthetic is not all, there are some worth-considerable issues with this keyboard. The unreliable keyboard is not good at performance as it creates problems in registering keys sometimes so users have to attempt key pressing again and again.
Besides, the instruction guide is difficult for a user to understand, and the problem with Bluetooth connectivity is there with the keyboard, too slow to operate things accurately. The build quality of the keyboard is not so impressive, low-quality materials are used in the keyboard. It produces a very loud clacking sound upon the keypresses repetitively.
What are the Characteristics of fine Quality Keyboards?
After discussing everything about the worst keyboards, let's take a look at the crucial qualities that make keyboards premium.
Although these are the most common features available in good quality keyboards these can be considered as differences between the worst and best keyboards.
Best Design Choice: Good keyboards tend to have the finest appearance and better choice of design, from the build, frame, and ergonomics to everything being made of premium quality and best to make the keyboard durable and successful
Advanced Features: You will find multiple state-of-the-art features of good mechanical keyboards, with programmable hotkeys, shortcut keys, various customization options, and many others you will be amazed by the aesthetics of gaming keyboards nowadays.
High-Quality Switches: Optimum gaming keyboards usually offer mechanical switches that provide better actuation, response & feel as well as require lesser actuation force, other than mechanical switches some brands use premium quality switches that are not any less than mechanical ones in terms of best performance, decent keypresses, feel, actuation point, etc. Mechanical switches are considered the best for gaming, as they provide tactile feedback and responsiveness. However, different types of mechanical switches offer varying levels of feedback, so consider your personal preferences when choosing a switch type.
Flexible in Usage: The prime quality keyboard is made to be used by various people related to different sectors like typists, programmers, developers, pro players, and even enthusiasts. Good mechanical keyboards are versatile enough to be used for almost every purpose, however, you should pick the proper type of switches (silent) if you have to use the keyboard in your office or so.
Build Quality: The build quality of a gaming keyboard is crucial in determining its longevity and durability. Look for keyboards with high-quality construction materials, such as metal frames and solid plastic keycaps. Additionally, consider the overall design and stability of the keyboard to ensure that it will not easily tip over or break.
Keycap Material: The material used for keycaps can also impact the typing experience and durability of the keyboard. Keycap materials include plastic, PBT plastic, and metal. Consider the level of wear and tear you expect for the keyboard, and choose a keycap material that is suitable for your needs.
Software and Customization Options: Gaming keyboards often come with software that allows for customization, including backlight options and macro programming. Consider the level of customization you require and look for keyboards with software that is easy to use and offers a wide range of options.
Sources: