Logitech is a brand that has made quite a name of itself when it comes to electronics and this includes mice, headsets, streaming devices, and of course our main topic for today, their keyboards. They have a total of 5 different varieties when it comes to keyboards and we will be discussing 2 of their most popular products today.
Logitech G513 VS G512 – Quick Overview
Today's review will be based on a comparison of the Logitech g513 vs g512 and we will list out the main features of each and end with a comparison at the end.
Whether you are a content creator, an avid gamer, or just someone who wants a high-quality keyboard option, finding the right sort of keyboard can become crucial in your overall experience. That's why it's lucky that both of these print screen on Logitech keyboards are perfect premium quality products. However, with both being such impressive devices, it becomes hard to select one and while they are from the same brand, they have many differences that we will be getting into today.
If you are confused with your selection process, do not fret because we'll help you decide which should you pick; the Logitech g513 or g512? 
Logitech G513 Carbon LIGHTSYNC RGB
Pros
Customized key lighting
Aircraft-grade 5052 aluminum top case
Memory foam
Tactile and clicky feedback
G Hub software
USB pass-through port
Media and lighting controls
Cons
Typing sound can be annoying
We are starting today's debate with the Logitech G513 Carbon light sync keyboard and this is quite an impressive pick. The first aspect that we want to discuss in our Logitech g513 review is its customization options. This product comes with an option to personalize and create custom effects for each key! This means that you can elevate your gaming system or your PC and make it your own! You will be quite impressed with this feature especially since you can choose combinations from its16.8 million color spectrum options. This is made possible due to the Logitech G 915 hub.
One impressive thing about this specific product is that it is available in its classic Gx Blue design that has what it takes to ensure you have the best and most responsive typing experience ever. This is a tactile monitor through and through which is made evident via the clicking feedback that it works with. While this is great for users who want a more responsive feel as they type or play, the sound itself can be a little disruptive and annoying.
However, you can also invest a little more to get this product in both tactile and linear switch options but it will be an added cost. The G513 also comes with a comfortable memory foam rest. The best thing about this? It can come back to its original shape almost immediately which means it is quite long-lasting.
Now, coming to perhaps the most important aspect and that is its construction and build quality. The price is also in the premium range and that translates into its features as well. This keyboard has been designed out of an aircraft-grade 5052 aluminum exterior. This means it can withstand the test of time and is so durable because it is both brushed and anodized.
Overall, this keyboard also looks as great as it feels. It has a sleek and stylish body that feels high-end. Connectivity is one of the most important features for any keyboard device because you need to make sure your external hardware such as the mouse and even your phone can easily connect to it. This is where the USB pass-through port comes into action as it is the most convenient method to ensure instant charging and data transmission directly.
You will love the inclusion of its full function or FN-F keys that can be used to set and control various lighting and media options directly from the keyboard itself. These include the ability to turn to game mode, toggle mode, the ability to change the volume and lighting, to mute, to pause or play, and more!
We talked about this keyboard's ability to allow for a customized experience with its many color options but this is made possible with its special Logitech G hub software that can be downloaded. This allows you to work with macro custom programming as well as a special game mode.
An additional feature of this device is that it is completely impervious to sweat, water, or moisture that might accumulate on it with a lot of use. This means that your experience will be a clean and dry one at all times. All you have to do is wipe it off with a clean cloth and you're good to go.
That is all for today's Logitech g513 review and we are now moving onto the Logitech G512 review up next:
Logitech G512 Carbon RGB Gaming Keyboard
Pros
Full function keys
5052 aluminum top case
Anodized and brushed exterior
Sleek and durable
USB pass-through port
Romer-G Tactile
The Logitech G512 Carbon RGB keyboard is our other product for today in this Logitech G513 vs G512 comparison. To start with this Logitech G512 SE review we want to mention that the main difference here is that this product does not come with a palm rest and a few other features such as additional keycap options. It is in no way a cheaper option as it is in the 100 dollar mark. It certainly has the features to support this cost.
One of these features is its light sync RGB technology that allows users to create a customized lighting experience for themselves. Each key can be set up for complete personalization and you can choose combinations from the 16.8 million color spectrum. There is also a game mode for this option that allows for impressive in-game integrations.
Just like its other counterpart, this keyboard makes use of Logitech's Romer-G Tactile mechanical switch feature. If you are an individual who is interested in heavy-duty or FPS gaming, this is the perfect product for you because it ensures you get the best responsive feel for an interactive experience. You will have to deal with minimal actuation so that you don't have to deal with annoying clicky keyboards and also have the most accurate typing or playing experience.
The connection option for this keyboard is a USB pass-through port that is completely built-in and ensures that when you want, you get direct transmission and connection to flash drives, your mouse, and your other external devices. This product has been designed and manufactured from an a5052 aluminum top case which is aircraft grade quality. This makes the keyboard super durable and long-lasting along with being quite sleek and appealing visually.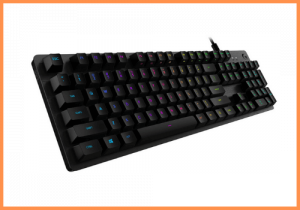 Finally, the G512 also comes fitted with an impressive array of full-function keys. These ensure that from the lighting processes to the media actions, you can control and adjust any of these features with just a click of a button on your keyboard. These include the ability to change and set lighting, pause or play, switch to game mode, toggle, set volume, and mute the keyboard among other aspects.
With that, we end the Logitech G512 SE review and now that we have gone over both products, we are going to look over the comparison in more detail.
Logitech G513 vs G512 Comparison
If you are still confused about whether you should invest in the Logitech G513 or G512, you can rest assured we will help you make a concrete choice by the end of this review! Now moving on with our comparison review of the Logitech g513 carbon vs g512 and we will compare them on a few basic features that we have already discussed in quite some detail in the product reviews.
Cost:
When it comes to the topic of pricing and cost in this review of the Logitech G513 carbon vs G512, it is evident that the G513 is the more expensive option out of the two. However, this is just a 50 dollar increase which in all honesty isn't a lot. The G512 comes in at a hundred dollars while the G513 is around 150 dollars. The reason why the G512 is slightly less expensive is that they have cut out some extra features and the G512 is also not available in Cherry MX Blue.
Extra Features:
As we mentioned above, one of the main differences between the G513 and the G512 is that the former adds in a little more oomph with additional features that the latter does not have. These include a tool that can be used to remove keycaps, additional keycaps, and a wrist rest for comfort. We will discuss this in more detail further.
Design:
When it comes to design, we feel that both the G513 and the G512 are quite similar. They are both darker and are constructed with a 5051 aluminum construction that is both anodized and brushed for a long-lasting effect. The only real difference here is that the G513 is also available in the Cherry MX Blue model. Both are also fitted with full-function keys that make use quite easier.
When it comes to a durability test between both options, we feel that purely based on pricing and its purpose, the Logitech G512 is stronger and more resilient than its G513 counterpart. So ultimately if you think you hit down too hard on your keys, this is the keyboard for you!
Also, Read Brass Vs. Aluminum Plate Keyboards
Tactile technology:
We have looked at a few of the main differences between Logitech g513 and g512 but they also have quite a few features in common. The most obvious one apart from design is the mechanical feel and use. Both of these keyboards make use of Logitech's own G. Romer-G switches. These are mechanical switches made for high performance as they are more durable and are even faster than your regular devices.
The main reason why Romer-G Tactile has been fitted in both our contenders is that Logitech puts it in all their keyboards. This feature ensures that you have a precision-based typing experience but with less feedback. It also ensures that you don't have any disruption in the form of super loud clicking.
Conclusion
Now that you have had a detailed overview of the main difference between Logitech G513 and Logitech G512 you will have a better understanding of a few of the most important aspects.  When it comes down to it, both of these products are quite similar, but the Logitech G512 has been built for long-lasting performance and the Logitech G513 on the other hand is your premium and stylish option that offers more customization features.
This is essentially quite surprising since the Logitech G513 is the more expensive option but if we had an endurance test for both, the Logitech G512 would come out as the clear winner. This product has a lot of flashy features added to it such as RGB lighting and keycap options but in reality, it is quite a simple keyboard device. It foes offer quite an impressive performance and you should know that you are paying the premium price for its extra features. When you take.