Do you like playing OSU? And wondering which is the best keyboard for OSU? We heartily welcome you to the post that suggests the top ten best keyboards for OSU to steer you to pick the most appropriate one that suits your requirements.
The most agreeable factor related to games connecting players, non-gamers even professionals is that game-winning is majorly dependent on the best input device.  And whereas, if it is about fast rhythm game like OSU you will need a keyboard having light springs and fast switches which you cannot get in the regular keyboard.
In addition, OSU is a rhythm-matching game primarily dependent on the reflexes and speed of players. In like manner, it is way important to have an ideal mechanical keyboard for OSU in terms of hitting circles and notes section as faster and more efficient as possible.
Like other games OSU is also the game that contains great competitive players, therefore to get the edge in-game a decent keyboard would be quite beneficial
But the big question is how to find the best OSU keyboard? SO,Our experts tested a variety of gaming keyboard at low to highest price with the different features and the typing comfort. One of our favorite pick is Motospeed 60% for the Osu.
Let's check out the list of some best-suited best cheap mechanical keyboard for the money to play OSU.
Top 10 Best Keyboards for OSU
 1. Motospeed 60%- Best Compact OSU Keyboard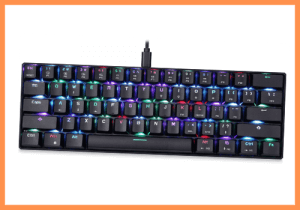 Features
Modern mechanical switch technology: The Motospeed features specially designed advanced Outemu switches for a great response, surprisingly, the red switches offer crisp and precise tactile feedback that is perfect for OSU gaming.
Per-key RGB lighting & Customization: Its excellent RGB backlit LED is the highlight feature for OSU players also allows them to customize from 16.8 Million colors, different lighting modes, and various lighting effects
Doubleshot-molded keycaps: Although the top of the keycaps are made of ABS material but considering the price range, I think it's understandable while the double shot molded keycaps are impressive as long as they are smooth to touch and removable
Full N-Key Rollover with Anti-ghosting tech: This keyboard is loaded with keys built with 100% anti-ghosting technology likewise the board provide the highest precision and performance with n-key rollover.
just ordered a new keyboard

motospeed 60% with reds cant wait

— dxrrk (@dxrrkbtw) October 31, 2021
2. Anne Pro 2 60% – Best Smart Keyboards For OSU
Features
Gateron red switches: The Anne Pro 2 although offering you a range of options to pick your preferred switches, as it comes to Gateron red switches so they work decently and are better responsive, and require less actuation force
Updated Software: the obinskit starter software works best for customization, the software enables users to personalize every function/feature of the keyboard
Quality Built: the compact design is although feels limited but makes you able to perform all functionalities, similarly, the metallic build makes it sturdy and long-lasting, a prime option for OSU
Per-Key RGB Backlit & Customization: The Pro 2 supports full keys RGB lighting as well as offer per-key backlighting and full availability of customization.
Anne Pro 2 arrived way sooner than I expected. $105 CAD for 60% with white keycaps and Gateron Red switches quite good pic.twitter.com/T7sAWurCrZ

— loafusofbread (@loafusofbread) October 26, 2021
Read More: 8 Best Keyboards for Surface Pro
3. Cooler MasterKeys Pro L
 Features
Cherry MX Switches: The patented design of Cooler MasterKeys Pro holds Cherry MX Blue switches to give away the performance, precision, and accuracy of a pro-like keyboard
RGB Backlit & Customization: The prime gaming keyboard comes with full RGB backlighting, for individual keys LED lighting you can choose from 16.8 million colors, also customize multiple lighting modes and effects.
On-the-fly Set-up: the keyboard features an easy setup profile, macros programming keys, you can create/adjust all the preferred commands on the keyboard for multiple functions.
Full-sized keyboard. USB Type-C. The cable is fixed. Looks like Cooler Master Masterkeys Pro L is the only (if not one of the rare) full-size mechanical keyboards with detachable cable. pic.twitter.com/EWHzTyN1iA

— SORCERER (@The_Sorcerer) July 20, 2020
4. Drevo Calibur 71-Key Gaming Keyboard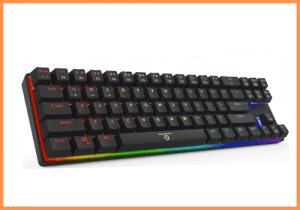 Features
Items Brown switches: The Calibur mechanical keyboard gives you options to choose blue, brown, red, and black switches without extra cost, preferably brown switch is a good option for non-clicky and tactile with a bumpy feel.
RGB LED backlighting customization: the keyboard offers per-key RGB backlit with 16.8 million color options with 7 dynamic illumination effects and modes
Others: The exceptional compact design of Drevo Calibur has the layout of 71 keys, whereas it is packed with many magnificent features and functions like premium-grade keycap, macro programmable keys, key remapping, dual-mode connectivity, etc.
Typing on the Drevo Calibur 71 key is fun in a bun. Still a 60% keyboard guy though. pic.twitter.com/j86VpT5Q3U

— §targent §pace §oldiern't (@SpaceSoldiernt) August 5, 2020
5. RK Royal Kludge RK61
RK Royal Kludge RK61 gaming keyboard is the cheapest and finest entry-level, compact keyboard you can buy for OSU.
Features
Build Quality: In terms of build quality, RK Royal Kludge is indeed impressive, it is very tough to find such a well-built mechanical keyboard at this price range, made out of high-quality plastic
Switches & Keys: the keyboard has adopted Royal Kludge blue switches (options available for red, brown & blue switches), although these are kind of rattly but overall work fine.
FN Key & Lighting: Using FN + users can control speed & brightness, and customize ideal modes, however, with single LED-backlit users can personalize from 17 backlit modes and effects.
Typing on the Drevo Calibur 71 key is fun in a bun. Still a 60% keyboard guy though. pic.twitter.com/j86VpT5Q3U

— §targent §pace §oldiern't (@SpaceSoldiernt) August 5, 2020
6. Tecware Phantom 87 Key
Features
Outemu Mechanical Switches: The Tecware Phantom is furnished with mechanical design items mechanical switches with 3 color variants, while items blue switches are responsive and offer an audible click & tactile bump
RGB Backlit Customization: Besides, the Phantom 87 keyboard comes with default keys' RGB, 18 integrated lighting configurations also create their own illumination setup.
Fiberglass PCB: the keyboard also features a printed circuit board made of FR-4 fiberglass & SMD LEDs, hence, the keyboard is durable enough to bear long and intense gaming sessions.
My first mechanical keyboard, a tecware phantom 87 with outemu brown switch. They light up so beautifully. pic.twitter.com/iyWWNs1uNb

— Clare | save gentleman jack (@chaitehlatte) June 12, 2020
7. Corsair K70 RGB MK.2
Features
Build quality & Size: With such a hefty price you can expect solid build quality the premium-grade keyboard has a robust aluminum frame also light in weight, a full-sized keyboard with 104 anti-ghosting, fully rollover keys
Genuine Cherry MX Switches: the keyboard carries authentic Cherry MX Switches with options available, for this reason, the keyboard offers accuracy, reliability, and precision
ICUE software: the powerful Corsair software works great for RGB lighting control and customization, system lighting synchronization with other devices, and Macro programming.
My new @CORSAIR K70 RGB Mk.2 Keyboard and Ironclaw mouse have arrived and they look super sexy 😍😍😍 pic.twitter.com/5xWtRYem4P

— SneakyBadgerUK 🇺🇦🏳️‍🌈 (they/them) (@sneakybadgeruk) May 4, 2019
8.FIRSTBLOOD ONLY GAME AK33 Geek RGB
portable gaming keyboard
is yet mentioned, AK33 Geek RGB Keyboard features a unique design, 82 keys layout, modified black switches, RGB LED-backlit, and many other functions and specs that make it a worth-try option for OSU.
Features
Professional Gaming Keyboard: The AK33 by Firstblood Only Game is the keyboard designed for professional gamers, featuring fully N Key rollover keys, black switches for fastest response, Macros editing supported, easy-functional software, functional keys, etc.
Build Quality: The aluminum construction of the frame increases durability and stability while the keyboard has double-shot molded keycaps to offer a soft-touch feeling.
Plug & play: this wired gaming console is easy to use as it offers wide compatibility.
9. HyperX Alloy FPS Pro Tenkeyless
Features
Tenkeyless design & ultra-portability: The accurate TKL design of HyperX FPS Pro is the biggest highlight to offer space for mouse or hand movement while the compact design makes it a real pro for gamers
Build Quality: Solid build quality of the keyboard is connected to the steel frame, also the best build quality impacts greatly on all features and functions
Cherry MX switches: The Cherry MX red switches are used in this professional gaming keyboard to offer reliability, responsiveness, and precision.
HyperX Alloy FPS Pro Tenkeyless is the one I am looking at rn 👀

— Noelan (@NoelanMaltazer) December 9, 2019
10. Delux KM13DP -Wireless OSU Keyboard
Features
Compact TKL design: The compact 87 keys design of Delux KM13DP 2.4G Mechanical Keyboard provides more space on the desk, all anti-ghosting, N-Key rollover programming keys with 12 dedicated multimedia keys
Red switches: Although these switches are not like Cherry MX but still offer fast action, quiet click with zero tactile bumps, and slight resistance
PBT keycaps: the mechanical keyboard has introduced yellow high-quality PBT keycaps which are smooth to touch and easy to maintain.
Frequently Asked Questions
What is the best keyboard for OSU?
Corsair K70 RGB MK.2 Mechanical Gaming Keyboard
HyperX Alloy FPS Pro Tenkeyless Mechanical Keyboard
Anne Pro 2 60% Mechanical Keyboard
Is the keyboard important for OSU?
Although you can play the game by using a mouse or touchscreen, the side, keyboard provides you with great efficiency & pace. With the keyboard, you do not have to worry about tapping the exact area on a touch screen to mark a score, or wasting your time dragging the mouse.
Using fingers to click keys on the keyboard for OSU gaming is more hassle-free than using other input devices.
Conclusion
To sum up, we addressed the most awaited matter of the best keyboard for OSU as so many players out there are eagerly waiting for a good boost in their skills and reflexes. That's so we sum up premium gaming keyboards that are most suitable to play rhythm-based OSU.
Above mentioned keyboards are the best mechanical keyboards to offer you fast-responsive switches, additional features, and a great performance edge.
In case you are still not confident about which keyboard suits your requirements so take a survey, search well and consider some essential factors like brand, preferences, and budget to pick the perfect keyboard for OSU.
References: