When it comes to choosing computing peripherals, it is extremely personal opinion, decision, and feel, this theory applies the most on the keyboard, particularly the type of switches. And everybody knows that the mechanical dominates the keyboard world whereas membrane reputes bad somewhat.
Still, there are people enjoying working/gaming on laptop-like keyboards, which are commonly known as scissor-switch keyboards.  There was a time when you get true switches or scissor switches only in laptop keyboards but nowadays laptop-style switches are used on many different keyboards. Such keyboards carried low-profile switches are actually scissor switches.
If you want to know what are scissor-switch keys, you come to the right place. Here in this post, we will be trying to explain to you how scissor-switch works, can you find a scissor-switch gaming keyboard, etc.
We are hoping that this article will give you a basic idea about the scissor-switch keyboards as well as whether they are good for working & gaming.
What is a Scissor Switches?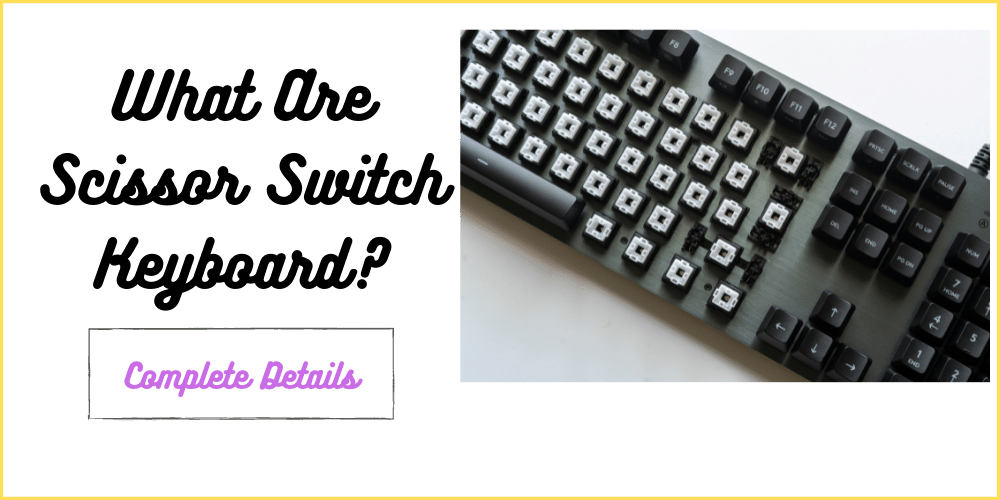 Scissor switches are commonly used in laptops, they are designed low profile that need to press down to register a key press. Scissor switches are based on membrane switch technology, which was launched in the decade 90.
This type of switch has used criss-cross rubber under the key that somewhat seems scissor in shape. This mechanism of scissor-switch not only inhibits typing noise as well as enables quicker actuation because of the low-profile switch design.
How do Scissor Switches work on a keyboard?
The scissor-switch keys in the keyboard are attached through two pieces of plastic connected in a way making the 'X' shape of a scissor-like cross and working in the same manner as the scissor does. Both the plastic pieces remain open on the key at the keyboard and upon pressing a key the two pieces of plastic close like a scissor mechanism. Scissor switches can be found on computer laptops and low-profile keyboards.
The simple scissor-like mechanism of the switches actuates key switches, once it is pressed. It is substantially quite different from mechanical switches in which two metal components have to meet for switch actuation. The Scissor switch mechanism might be misunderstood because it is required to be bottomed out. But if you thoroughly consider the travel distance every scissor switch has to cover is as low as 3.5 to 4 mm so you will get to know these switches are truly efficient.
Low profile design that is mostly scissor switches based are high in demand and is gradually increasing as these switches enable users to type faster. Further, scissor switches perform quietly as compared to mechanical or rubber dome keyboards and membrane keyboards. not only these, but in terms of stability, they are very good. You will not come across key wobbling with these switches similarly the chance of keys detaching is zero.
What Are Scissor Switch Keyboard?
Thanks to the low-profile design, scissor switches keep pretty close to the keyboard rather than scissor switches keyboard  that hold keys far from the keyboard. Nonetheless, scissor key switches keep in place and also improves the life span of the keyboard. It is less likely to get dust particles underneath the keys but at the same time, this is a difficult area to clean. As scissor switches happen to be the most comfortable keys especially for typing because of amazing response, this is why they have a separate fan following.
If you are curious to know what is a scissor-switch gaming keyboard, to be honest, most scissor-switch keyboards cannot be good gaming keyboards but some brands went groundbreaking with evolution & innovation in the experiment and brought esports keyboards like Vantar AX.
Scissor Switches vs. Membrane Keyboards
technically, there is no such difference between scissor switches and membrane keyboards as scissor switches have used similar key switch technology. Nonetheless, in contrast to typical scissor-style keyboards, scissor switches used in keyboards in modern days feel more tactile and better than ever.
In addition, the low-profile design is what many users prefer using over the common high-profile key switch design of membrane keyboards.
You can sense the very obvious difference in tactile feel with scissor-switch keyboards rather than most budget membrane keyboards.  As low-cost membrane keyboards generally feel quite a lot mushy and offer zero clarity of keystrokes. Obviously, scissor-style switch keyboards offer a great margin in respect of performance but you can't expect it with membrane keyboards anyway.
Longevity of Scissor Switches
However, scissor switches can last for quite a long time (5 million to 10 million keystrokes) but they certainly required high maintenance to have that promising lifespan. Similarly material quality matters a lot and that's why some may easily break but some can survive a good few years.
If you use membrane technology scissor-switch keyboard properly it can be with you for years. you need to be careful about mishandling them as they can break easily upon misusing. besides, they are likely to get debris or dirt, and switches can malfunction due to this, that is why users should try to maintain or clean the keyboard regularly.
Scissor Switches vs. Mechanical Keyboards
Even though it would be unfair to compare both types of keyboards but we tried to get facts in front of you. As discussed earlier low-profile keycap design is the major appeal of scissor switches, keeping this in mind various companies that produced mechanical switches and keyboards, have been innovating low-profile mechanical switches. Logitech G & Cherry are among some of those companies who are experimenting with switch evolution.
They are aiming to upgrade present scissor-switch technology although they imitate low profile design of these switches, at the same time, widely focus on improving the durability and feel while keeping all the internal mechanisms intact like traditional switches. These are the mechanical switches made with a low profile and also provide tactile, clicky, and linear experiences.
Besides, gaming keyboards producing companies are in process of experimenting with mechanical switches on laptop keyboards. It is about settling problems like key malfunctions because of dust particles or dirt and improving the life of switches as well.  Surprisingly, it also covers features like anti-ghosting & N-Key rollover.
it is not like it has not been done so far, many brands have tried to launch gaming-rich features in scissor-switch keyboards but scissor switches are grounded on membrane technology, which drastically limits the options.
Scissor Switches for Typing or Gaming?
Scissor switches can't get the desired result in pro gaming, as many models cannot provide you the incredible feedback and accuracy you can get with other types of switches.
Since scissor switches are not designed specifically for gaming so the durability issue cannot be ignored, in other words, they cannot endure repeated actions. It has been seen that scissor-switch laptop keyboards malfunction or break when they are used for intense gaming sessions.
Yet, it's mainly subjected to an individual's personal preference some like to use scissor switches to play games whereas others choose mechanical or other types of switches for gaming.
Fortunately, in past few years, some gaming keyboards with scissor switches have been produced, and they are introduced with innovation in functionality and longevity to the scissor-switch mechanism. Adapting to the scissor-switch design has been the most difficult challenge for some gaming keyboard, they achieved the purpose.
However, scissor switches are the best for typing-based tasks as the majority enjoy typing with a fast response and neat feel. Also, the silent performance of these switches makes them ideal to use in enclosed offices and other open public areas.
Source: